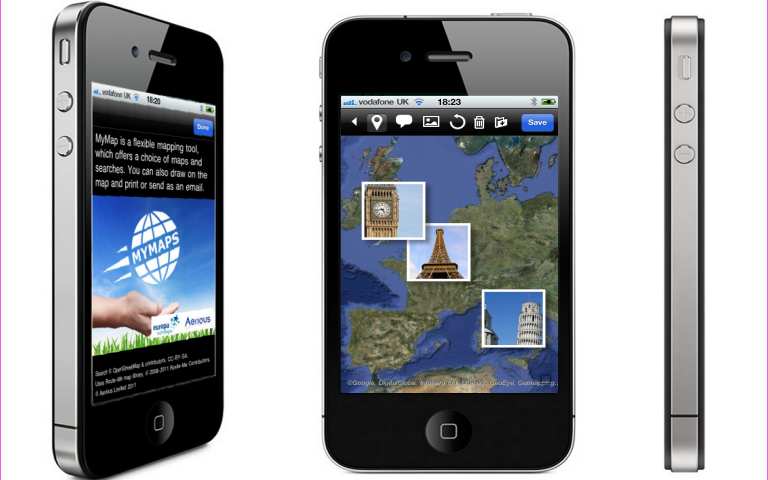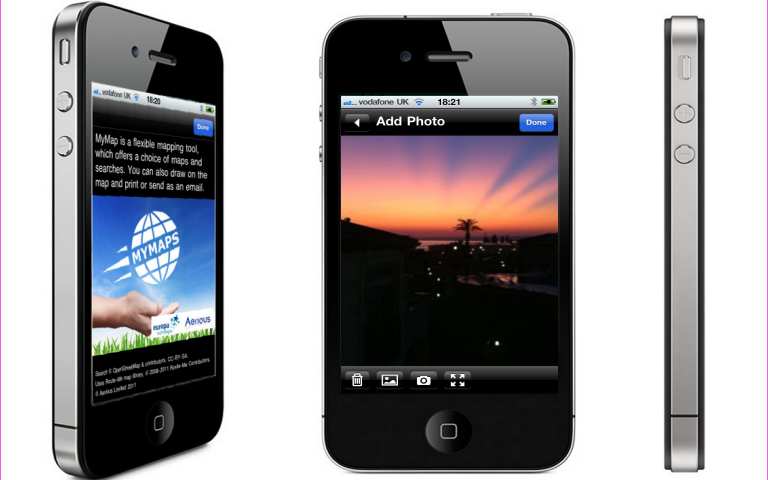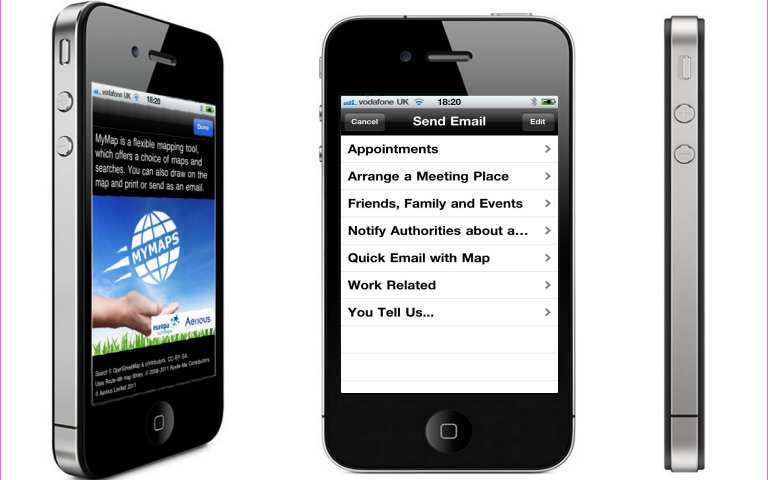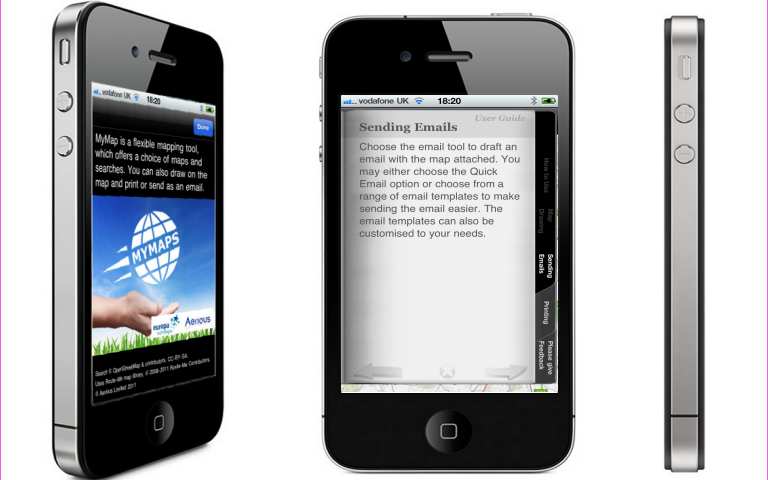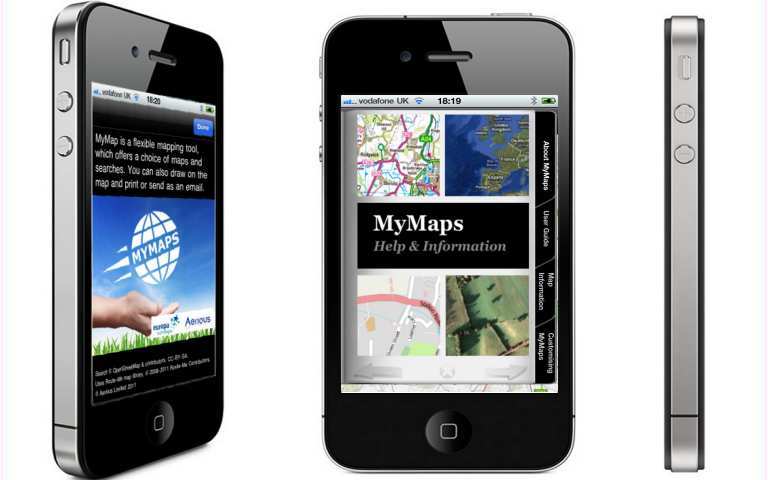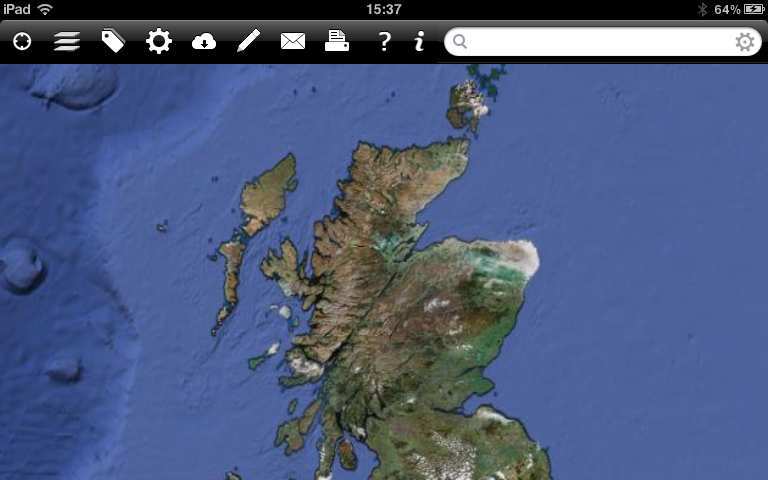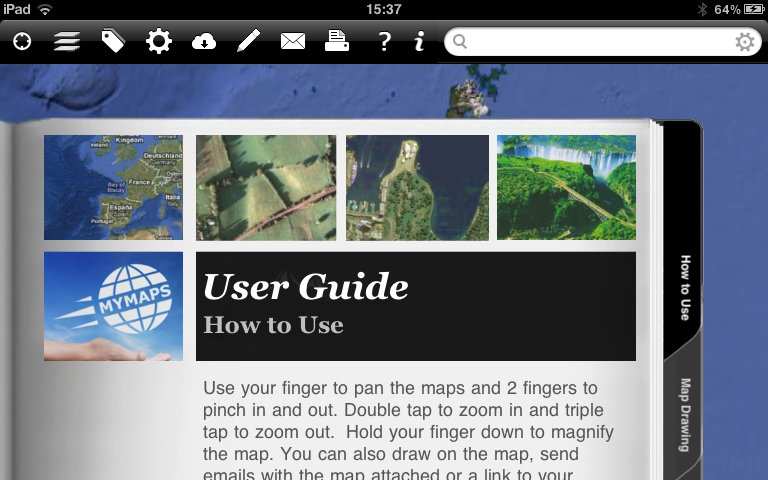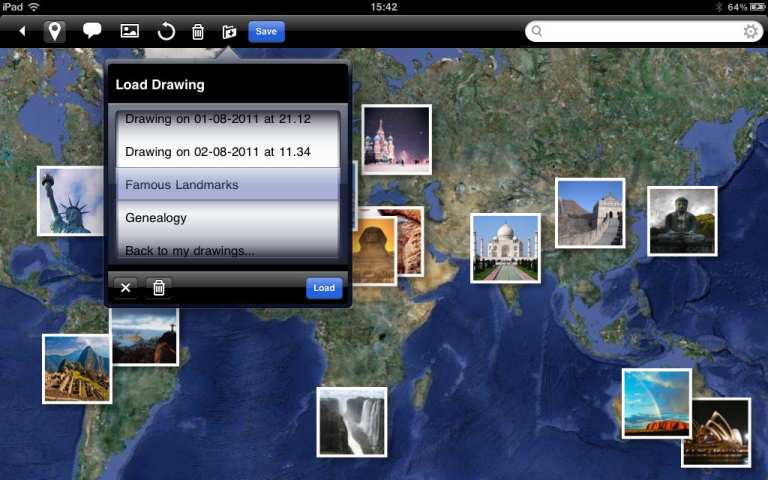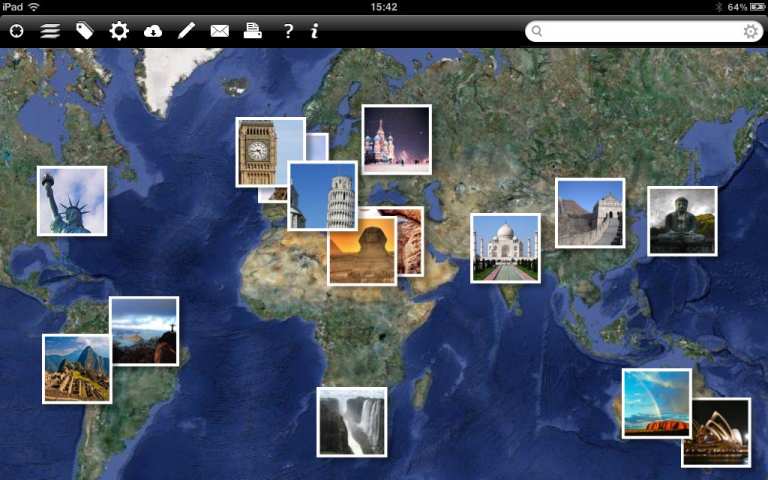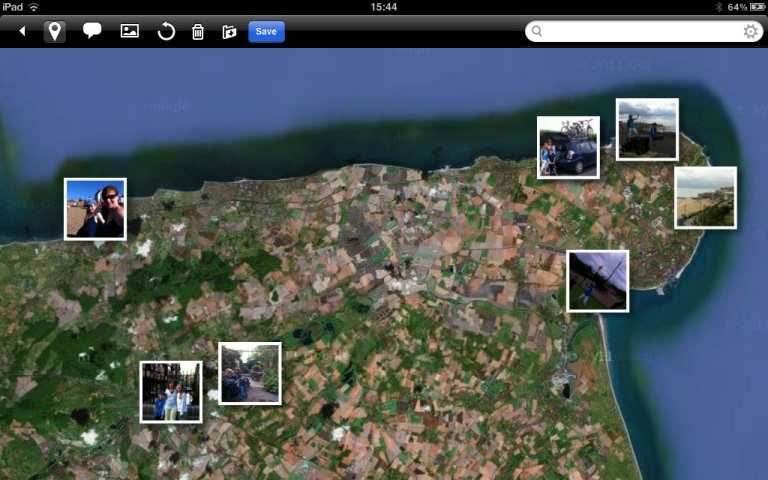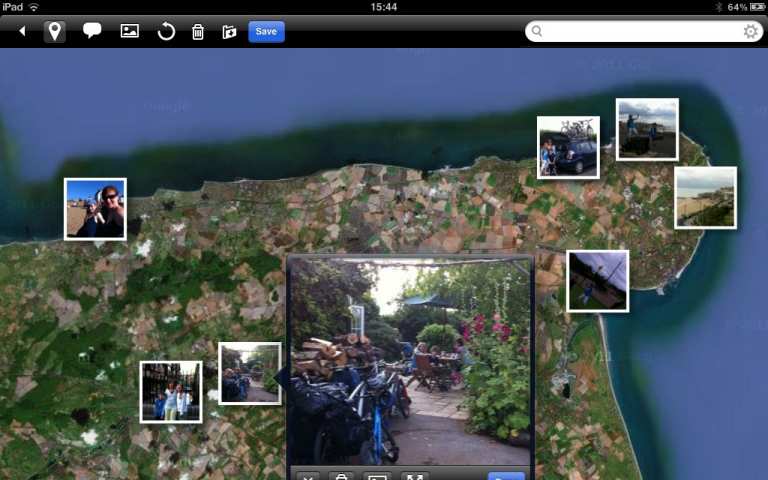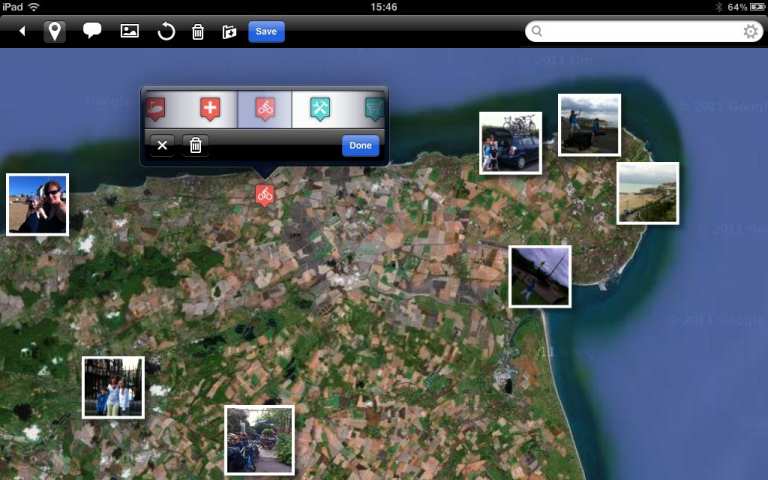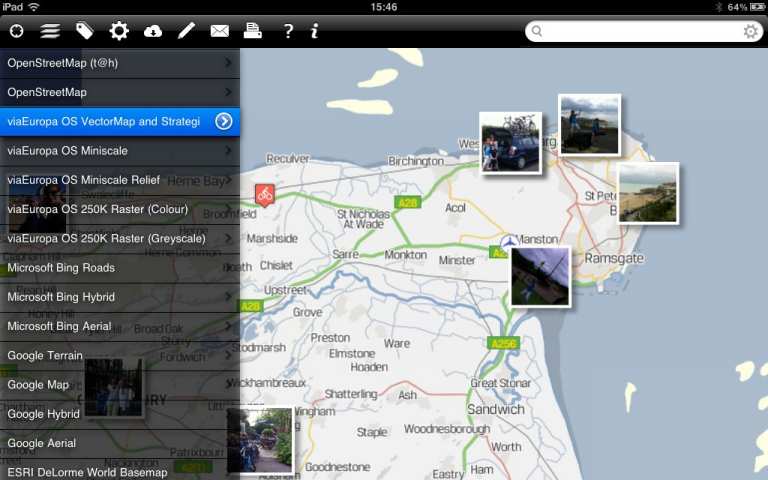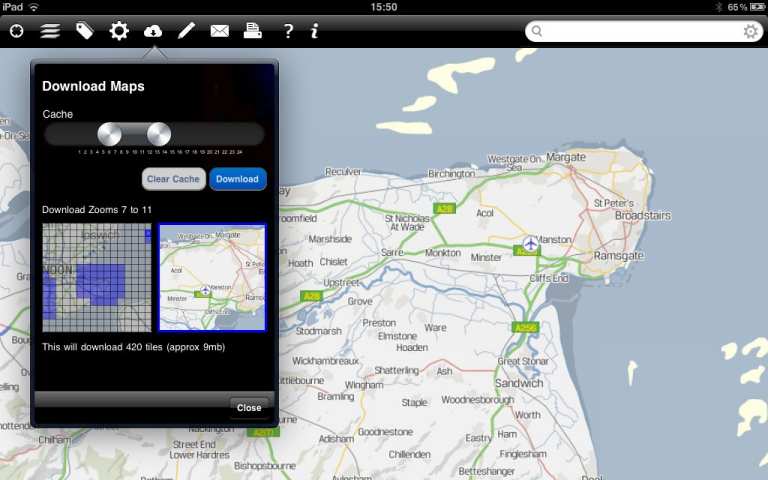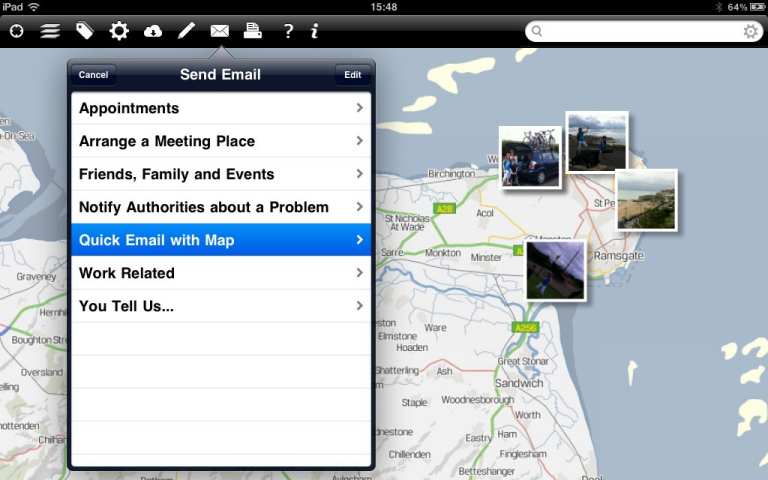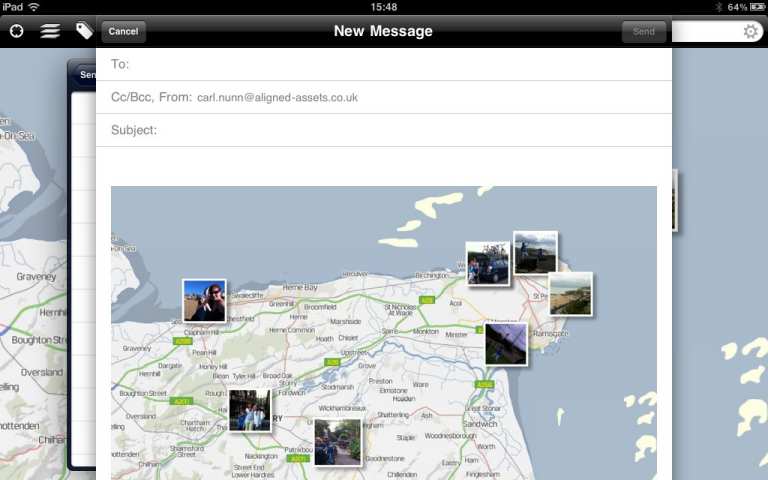 MyMaps is a versatile iPhone and iPad mapping application that can be used to display maps from any source and can be overlaid with your own drawings.  MyMaps is available as a free download on the itunes app store.
A list of the features included in MyMaps is as follows:
A Large Choice of Mapping. Choose from 17 base map layers, including layers from OpenStreetMaps, ViaEuropa, ESRI, Bing and Google. For the UK this includes a range of high-quality ViaEuropa Ordnance Survey maps and with the enterprise version you can even add your own tile servers.
Flexible Search. A choice of search services is provided. With the enterprise version the search may also be easily tailored to search your own datasets.
Photos, Symbols and Text. Add your own photos or images and choose the thumbnail size, and either save your drawings locally or upload to a shared location for use on other devices and by other users.
Send Emails. Send the maps as an email with the map attached. The email may be selected from a range of email templates such as "Report a pothole" and "Meet me here" and include the map as a JPG attachment.
Printing. Print to a wireless printer.
Bookmarks. Create and organise bookmarks as needed, with some bookmarks specified on startup.
Overview Map. Shows map coverage and provides another option to move the map around.
Magnifying Glass. With three different size and zoom options.
App settings. Upgrade to the full version to customise or specify own tile and search services.
Free Version
Choice of World Maps
Send emails with maps
Print maps
Draw on Maps
UK viaEuropa Maps
Download maps
Upload drawings
Update email templates
Add own maps & search
buy now
Full Version
Choice of World Maps
Send emails with maps
Print maps
Draw on Maps
UK viaEuropa Maps
Download maps
Upload drawings
Update email templates
Add own maps & search
buy now
Enterprise Version
Choice of World Maps
Send emails with maps
Print maps
Draw on Maps
UK viaEuropa Maps
Download maps
Upload drawings
Update email templates
Add own maps & search
buy now
MyMaps includes a wide range of features that can be easily customised to suit specific requirements. If you would like to white label or distribute MyMaps to your users or customers with functionality set to your requirements then please contact us